NFT meaning and tips on the crypto hype surrounding non-fungible tokens
NFTs
NFTs, Non-Fungible Tokens, are non-exchangeable digital certificates on a blockchain. These are assigned to a physical, but mostly digital, so virtual work. An NFT is:
– unique / one of a kind
– indivisible
– not replaceable
– verifiable
Since 2021 there has been a hype around NFTs. Trading, buying and selling digital artwork from Beeple, Larva Labs' CryptoPunks, Pak or the bored monkeys of the Bored Ape Yacht Club suddenly made millions of dollars. NFTs are traded on NFT marketplaces such as Opensea, SuperRare or Rarible. NFT Art, ie digital works of art, are now also auctioned by the major auction houses Christie's or Sotheby's. Increasingly, NFTs by various artists can also be found at art fairs such as Art Basel.
What can an NFT be?
NFTs are available as works of art, sneakers, digital trading cards, or as homes and properties for virtual worlds. The NFT market is just getting started.
How much does an NFT cost?
The price of an NFT depends on the client and the rate of the respective digital currency. Most NFTs are paid in the cryptocurrency Ether (ETH). When resold on NFT marketplaces and exchanges, the price of an NFT depends on demand.
Which NFT are valuable?
NFT art and works by artists such as Beeple, Pak, Refik Anadol and Mad Dog Jones achieved record prices. Whether these valuable NFTs hold their value depends heavily on the demand, popularity and prices of the cryptocurrencies. NFTs are highly speculative as investments.
NFT tips, interest, blockchain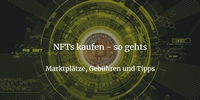 Buy NFT – Marketplaces, Fees and Tips
Where and how to buy NFTs? Which marketplaces are there? Costs and tips for buying NFT.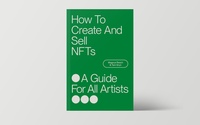 Make and Sell NFT – Tips, Marketplaces and Marketing
Create and sell NFTs. A guide for all artists.

Blockchain in the art market – list of 17 art start-ups & initiatives
How are blockchain technology and cryptocurrencies already impacting the art market?
Photo: NFT, Torente by pixabay